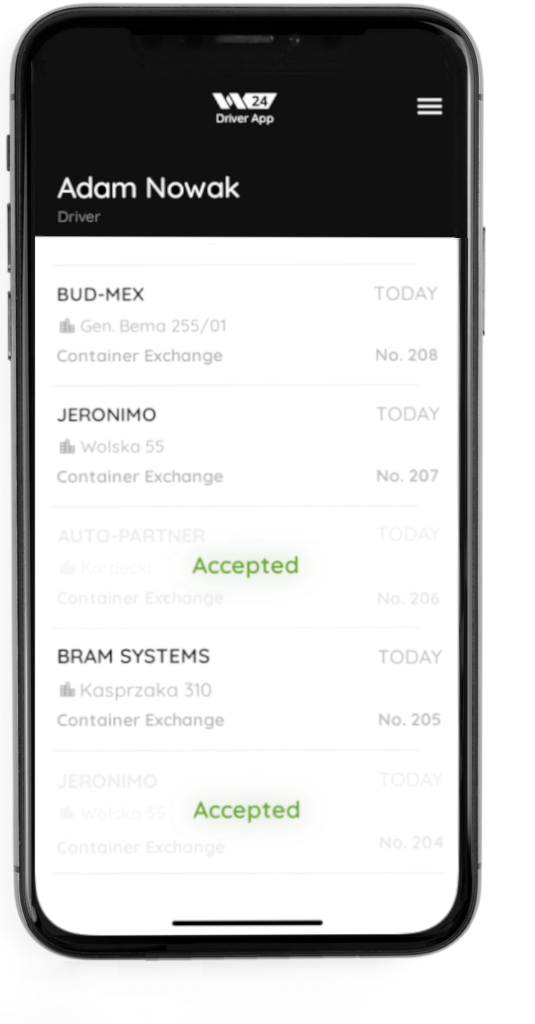 "Driver" Mobile App
It is an innovative solution on a national scale for delegating tasks to drivers who work in the municipal waste management industry.
It allows you to save time and ensure that you have current knowledge of what your employees are doing.
The software works with Android or iOS systems and you don't need any special devices to use it.
So if you want to turn your employees phones into a tool to improve communication, you've hit the bull's eye.
The "Driver" app is one of the elements of SaaS Waste24 system and is an excellent alternative to printing traditional documents with instructions.
Thanks to the app you can for example
Accept orders
Notifying the driver by phone that a given run has been completed does not always bring the right result. The employee not only has to drive a car, but also exchange information with the dispatcher which is sometimes difficult. For example, noise, which is normal in road traffic, is an obstacle here. Fortunately, with the Waste24 system you can provide him with the necessary tasks and have them performed on a specific working day. The whole process is fully automatic here and reduces the possibility of mistakes.
Cooperate with BDO
Many municipal logisticians have to issue waste transfer notes and municipal waste transfer notes. These documents are necessary both during transport and dumping the load. Unfortunately, the multitude of waste codes and the variety of what you can find in the containers mean that environmental documents have to be changed many times. The "Driver" app allows any corrections to be communicated remotely without the driver having to return to base. He also has the option of making changes to the data about the load he is transporting, if necessary.
Collect receipts of waste collection
The "Driver" app is equipped with technology known mainly from the operations of courier companies. This means that clients can place their signature on a tablet or phone and thus confirm the service has been provided. The signatures are sent to the dispatcher on an ongoing basis and are visible in Waste24. This avoids receiving any complaints and claims the utility users may have.
Create a map of containers, toilets or fences
It is important for a municipal dispatcher to know where their company's assets are currently located. In principle, it is not possible to obtain reliable data on this subject in a traditional way. Even the most thorough logistician may get confused due to the constant rotation. The"Driver" app makes it possible to get rid of this problem and place all the goods on google maps.